Grace's Favourites of 2021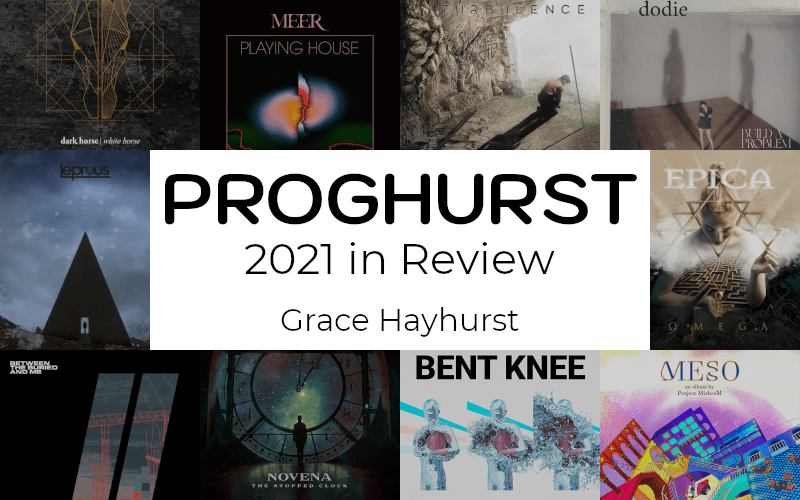 2021 eh? Another year of the pandemic that we've all had to suffer through, and frankly my music consumption has been down too. I've become incredibly consumed with producing my own music, that listening to the music of others has become a secondary priority.
And since covid restrictions were lifted in the UK, after I managed to get my double vaccination, I was out socialising at every opportunity instead of being locked away at home listening to albums non-stop. However, this also meant I've finally been able to catch some awesome live shows!
Despite keeping myself busy, I've still managed to listen to a large number of new releases this year. And there are some incredibly clear stand out favourites for me that have risen above the cream of the crop.
---
Bent Knee – Frosting
What can I say? This band continue to innovate in bonkers ways. And I can't lie that I struggled with 'Frosting' at first, but every listen made me appreciate the band's artistry more and more.
The sound design on this record is creative and innovative. You can hear all sorts of influences from the newer emerging hyper-pop genre, as well as influences from prior records.
Courtney, Courtney, Courtney. Your vocals sound absolutely fantastic on this record. Incredibly raw and emotional, and in other places kind and warm. Whatever you're doing, keep doing it.
I've seen a lot of 'anger' around this record too on various social media channels, 'go back to what you were doing before', 'turn off the autotune', type of ramblings. And to that I say, this is one of the most creative, innovative, and original albums that 2021 had to offer. And I shall continue to thoroughly enjoy it.
Favourite song: 'Queer Gods'
---
Project Mishram – Meso
I interviewed the band back in April to find out more about how this album came to be, and it's still one of my absolute favourites this year. So many incredibly hard-working musicians came together to make this record happen, the use of such wide instrumentation has led to a number of creative successes.
I've been asked a couple of times what my 'song of the year' is – and it has to be 'Loco Coko'. I don't normally like saying X is better than Y, but there are so many absurd moments and genre hits inside this track. Particularly so the Nadaswaram moments which add a fantastic texture to the music.
The unending creativity surrounding this release has been a real earworm for me, and I really really hope to catch this band performing some of the tracks live in the future.
Favourite song: 'Loco Coko'
---
Between the Buried and Me – Colors II
I mean what can I say. 'Colors II' is absolutely bonkers. There's so much jam-packed into this record, as there always is with BTBAM. But they've really outdone themselves this time. Personally, I'm a relatively new fan of the band, only really getting into them properly last year – but they've quickly ascended in my personal ranks to being one of my favourites.
I think everyone has said everything there is to say about this new record, but if for some reason you're still sleeping on it – I highly recommend giving it a spin.
Favourite song: 'Never Seen / Future Shock'
---
Novena – The Stopped Clock EP
This is a cheeky mention, but I really love this EP and what this band are doing. They really got their creative juices going with 'The Stopped Clock', chucking a 10-minute epic on to tie in with their debut album 'Eleventh Hour'.
I shalln't go on about this too much as there's already a full review up which is linked below. But definitely one of my top spins since it came out in October.
Favourite song: 'The Stopped Clock'
---
Dark Horse White Horse – Self Titled EP
Dark Horse White Horse are a brand new band that came out with their debut EP this year. It's short but packed full of power. Marcela Bovio has a powerful set of vocals, backed by tight, precise, and heavy instrumentals.
The EP was crowdfunded and ended up raising over €21,000 to kick start off the marketing run. Certainly an impressive figure, and the music produced absolutely warrants the cash raised.
I'd love to see this band do more in the future, and I'm sure it's only a matter of time before they do.
Favourite song:  'Get Out'
---

Turbulence – Frontal
A late contender for me, but I came across this band at the Progspace live festival and got absolutely blown away. Their roots started as a Dream Theater cover band playing in the local scene around Lebanon, but they've ended up releasing their second album this year to much acclaim.
'Frontal' tells an emotional story about Phineas Gage – a construction worker involved in an accident that left him permanently disabled. It's certainly a moving tale, and maybe sometimes difficult to pick up on that whilst indulging yourself in the crunchy riffs
They're absolutely fantastic musicians that are wholly underrated and underexposed. I'm incredibly excited to watch their musical career thrive over the coming years.
Favourite song: 'Madness Unforseen'
---
Epica – Omega
Epica really outdid themselves with this record. The sheer levels of orchestral arrangements that went into this album are quite frankly astounding, and the vocals are simply out of this world.
I covered the album in full earlier this year, so you can read my full-length review for some more in-depth thoughts.
Favourite song: 'Kingdom Of Heaven Part 3 – The Antediluvian Universe'
---
Meer – Playing House
I really only managed to catch this album properly right at the start of 2022. Meer put together an amazing acoustic set for the Progspace festival last year which got me hooked in, but it took me some time before I went back and checked out this album. And holy crap.
Across the album the vocals are exceptionally beautiful. There are some very sweet harmonies cleverly blended together, and the overall songwriting is just sublime. Definitely on your softer side in the prog world, but still incredibly enjoyable.
Favourite song: 'Beehive'
---
Leprous – Aphelion
I saw Leprous live in December of last year, and it really made this album stick in my mind. I think for me, seeing a band perform music live really brings it to lifem with the combination of senses – sight, sound, and smell – leaving a firm imprint on my brain. And Leprous did just that with their live show.
'Aphelion' is a great emotionally charged record with plenty of memorable tracks. It's a far softer release from the band, but it fits right in their discography, and continues to place the band as one of the modern masters of this genre.
Favourite song: 'The Silent Revelation'
---
Dodie – Build a Problem
So, while this isn't a prog album – but I felt it important to include it anyway as a sort of bonus on the end. Dodie's 'Build a Problem' has been my go-to chillout album this year, and I think it would be unjust not to mention it, even if it doesn't quite fit in with the rough genre boundaries of Proghurst's general content output.
Dodie Clark has a soft voice and her soft stripped back approach to composition, backed with subtle strings, makes for an emotional journey into her world.
Favourite song: 'Cool Girl'