Proghurst was founded in 2018 by Grace Hayhurst as a solo project to have a catalogue of live shows and festivals that she's attended over the years.
With the 2020 coronavirus pandemic and live concerts in short supply, the site expanded during this period to include news, album reviews, and more.
2021 has seen the onboarding of some fantastic new writers, partnerships with PR companies in the scene to get early news scoops and review copies of albums to allow for more immediate reporting on the latest in the progressive music scene.
If you'd like to support our work – consider buying a Ko-fi!
---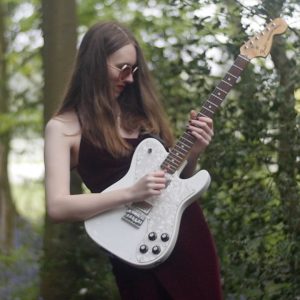 Editor & Founder (London, UK)
Bandcamp: gracehrst
Last.fm: gracehrst
Twitter: @gracehrst
YouTube: GraceHayhurst
Grace has been passionate about music all her life delving in various genres across electronica, metal, rock, and classical. Having grown up listening to Yes, Genesis, Steve Hackett, Thin Lizzy, ELO, and more – her passion for prog rock was ingrained from a young age.
She's been to hundreds of concerts across Europe, listened to tens of thousands of hours of music, and has an unreasonably eclectic taste.
Favourite Artists: Rammstein, Opeth, Haken, Scar Symmetry, Dream Theater, Mastodon, Yes, Steven Wilson, Leprous, Bombay Bicycle Club
---
Writer (Lebanon)
Bandcamp: Arsenous
Instagram: @joechoufany
YouTube: JoeChoufany
Joe is a self-taught musician who dabbles in genres ranging from electronic all the way to jazz.
From bass, to guitar, to percussion, all the way to mixing and sound design, Joe learned these skills on his own out of curiosity and it became a hobby. He grew up listening to bands like Children of Bodom and System of a Down up until he discovered Opeth and fell into the rabbit hole of progressive music.
Favourite Artists: Opeth, Caligula's Horse, Haken, Snarky Puppy, Thank You Scientist, Porcupine Tree, Claude Debussy
---
Ben is a simple music enjoyer who started his journey with classic rock and blues-rock. From there, his taste expanded until he came across a band called Leprous, which introduced him to the modern progressive metal scene. He quickly fell in love with the long songs that often ended in big emotional payoffs. He dove headfirst into the genre and hasn't looked back since.
Other interests for Ben include writing fiction and playing basketball.
Favourite Artists: Opeth, Leprous, Metallica, Led Zeppelin, Rival Sons, Ne Obliviscaris, Caligula's Horse, Oceans of Slumber, Wilderun, Klone.
---
Sebastian grew up in a world of heavy guitar riffs and would ultimately find his footing in the world of Progressive Extreme Metal. He was first contacted by Grace after voicing his opinions of an album in a public Discord server, asking him to put those words into a proper review. Hesitant at first, due to the language barrier imposed by being a natively born German, he soon found that his huge passion for music and writing would overcome that obstacle almost as though it was nothing more than a minor nuisance.
As a Software Developer, he has taken his state as an avid metal nerd to program a handful of tools to aid in making the journey of discovering music more convenient. When a new album drops on Friday midnight, he'll be the first one to hit the play button. Furthermore, where possible, he will try to fight his way to the front row in any of the many concerts he attends; music shouldn't be enjoyed from a safe distance, it should hit you in the face like a freight train!
Favorite artists: Finsterforst, Rammstein, Fleshgod Apocalypse, Leprous, Deafheaven, Between the Buried and Me, Haken
---

Writer (DC, USA)
Mars's journey with music began on long road trips to their grandparents' house. With no control over the car music, they grew up listening to Stevie Winwood, Miles Davis, Kool and the Gang, and more.
What stuck out the most to Mars was Stevie Winwood, particularly his work in Traffic and Blind Faith. These experiences brought Mars into the wider world of prog and helped them realize what they look for most in music: new sounds, atmospheres, and ideas, regardless of genre.
Mars currently studies psychology as an undergrad, preparing for graduate program applications while writing the "Why You Should Try" column as a hobby.
Favourite artists: Van Der Graaf Generator, Hammers of Misfortune, Wilderun, David Bowie, Poppy, Quasimoto, Giant Squid, Tyler, the Creator, Caravan Palace, and Johann Sebastian Bach
---
Josiah Aden
Writer (Northern Florida, USA)
Josiah is a writer and editor in the world of music publishing. He has a desire to appreciate every genre of music, and his list of genres that remain un-appreciated shrinks every month. His enjoyment of prog comes from an old love of the classics: Pink Floyd, Van der Graaf Generator, Yes, Gentle Giant, and many others. Acts like Caligula's Horse, Slice the Cake, GOJIRA, The Dear Hunter, and Gold Key convinced him that good progressive music continued past 1990, so he keeps an ear to the ground for any new albums to share here.
In his spare time, Josiah can be found playing piano, guitar, and video games; reading about music and history; hanging out with his friends; and saving up for a house by the time he's eighty years old.
Twitter: https://twitter.com/musicalmusings9
---
Writer (Ohio, USA)
Stephen is an avid student of music and the beneficial properties it has on people. Originally he listened to hard rock and thrash metal. He was drawn to learning bass guitar, feeling it was underutilized and had more potential in music. He later discovered genres such as progressive metal and jazz fusion that not only proved what a good bassist could provide for music, but also expanded his perception of music as a whole.
Stephen is currently writing music that is both atmospheric and engaging, as well as learning to play jazz.
Favourite artists: Allan Holdsworth, Exivious, Cynic, King Crimson, Intronaut, Rush, Voivod, East of the Wall, Ben Monder, Karnivool