Jason's Best Albums of 2021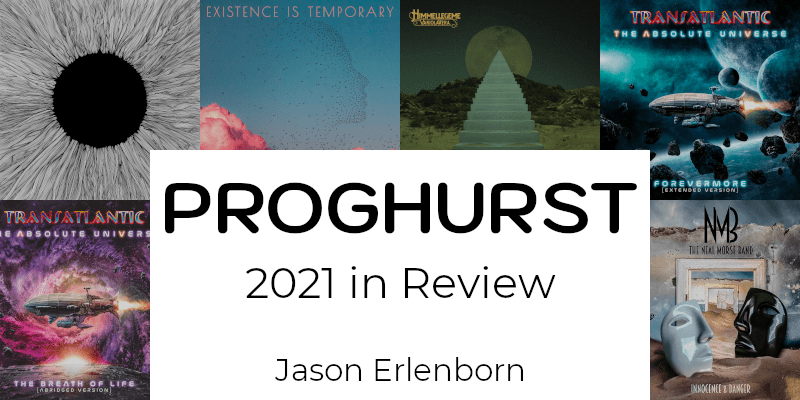 My top five albums for 2021 included both grizzled veterans of the prog world as well as some new fresh faces, and lastly bands with previous catalogues releasing their first albums that really connected with me. I will jump into these top five in order of their release.
---
Transatlantic – The Absolute Universe
Released on February 5th Transatlantic's 'The Absolute Universe' album became my immediate favourite of their discography. I am truly a sucker for concept albums full of recurring themes throughout and 'The Absolute Universe' does not disappoint. I will refer to my favourite theme from the album as the "Love Made A Way" theme which is heard multiple times throughout the double album including it's namesake song.
On disc one, I loved the high energy from 'Heart Like a Whirlwind', as well as the journey of the almost epic 'The World We Used to Know'. From disc two we're hit with an A Capella intro leading to a recap of the Heart Like A Whirlwind theme that then turns into its own new song in 'The Sun Comes Up Today'.
I also enjoyed the beauty in the song 'Solitude' and again the journey we are taken on from 'The Greatest Story Ever Known' through to the finale in 'Love Made A Way'. This was a great album to start of 2022 with!
---
Vola – Witness
We next skip forward to May and the release of Vola's third album 'Witness' which is the first in their discography to really stick with me. Their wall of sound guitars combined with the vocal harmonies, and excellent taste in synth use made for a very enjoyable album. They put a lot of emphasis on rising and declining levels of intensity that leave each song an enjoyable ride.
My personal favourite is the song 'Future Bird' in which I love the sequence around the three-minute mark that combines the guitars with the pad synths together playing a repetitive motif. Following a vocal chorus on top of this motif, we are then greeted with a bell synth taking over that same chorus with vocal ahh harmonies above that ride out the rest of the song. So many layers of great listening in this part.
The other song highlights to me off of 'Witness' include 'Straight Lines", 'Napalm', 'Freak', and '24 Light Years'.
---
Grace Hayhurst – Existence is Temporary
In August our very own Proghurst founder Grace Hayhurst released her debut EP 'Existence Is Temporary'. I had much anticipated this album knowing all of the musical influences that Grace and I share as well as hearing some demos and streams that Grace had done previously. The album was a definite favourite upon first listen.
The first single 'Where Am I?' gets you right away as you hear the lonely but warm and inviting guitar intro which is soon followed by a wall of sound of tight distortion with the first riff as you're taken on the journey of living through an existential crisis. A very powerful opening track and the rest of the album is full of "Yes!" moments. 'The Search for Purpose', the albums third track had a very resounding effect on me from the melancholic synth intro to its crunchy guitar riffs and the sudden electric piano break in the middle which was a fun changeup and is a writing technique that Grace also uses on the second song Negative Incline.
In the final track 'Death Is Final' Grace hits us with one of the sickest new guitar riffs of the year that leaves you nodding in approval. For obvious reasons Proghurst did not do a review of Existence Is Temporary (Editors note from Grace: Because of the obvious nepotism 🤣) – however there were no rules against it being on any of the writers top five lists so there it is for you. I highly encourage all readers to check out 'Existence Is Temporary' by Grace Hayhurst.
---
Neal Morse Band – Innocence and Danger
Later in August we got the release of 'Innocence And Danger' the new Neal Morse Band album and the second album in my top five that includes both Neal Morse and Mike Portnoy as band members with the first being 'The Absolute Universe' by Transatlantic.
For this album, it came down to these three words, 'Beyond These Years'. the final song on Innocence and Danger and my epic of the year for all prog music! This epic includes a small chamber orchestra laying down the first theme of the epic that brings the feeling of time passing over a specific town and witnessing its growth and erosion. The fact that the track is called 'Beyond These Years' shows that this may well be the visual they were trying to establish to the listener. Great solo jam sections along with random folkish music breaks, memorable melodies, and the brilliance of tying them all together is what made this my epic of the year.
Other notable tracks from 'Innocence and Danger' include the first two tracks 'Do It All Again' and 'Bird On A Wire'. We are also treated to a cover of the classic Simon and Garfunkel tune 'Bridge Over Troubled Waters' on this album!
---
Himmellegeme – Variloa Vera
On October 1st Himmellegeme the Norwegian atmospheric prog-rock group released their second album 'Variola Vera'. I was tasked with reviewing the new album but hadn't previously listened to Himmellegeme's music. I first dove into their first album, 2017's 'Myth Of Earth' and immediately enjoyed the blend of synths, guitars, and vocals in that atmospheric style that showed a lot of valley to peak writing progressions in the music. 'Variola Vera' took that sound and incorporated some more complex writing templates that take you on more of a rollercoaster ride throughout the song and also added some groove rock to the album that wasn't present on the first.
Every track on the album is a banger which is why I was so pleasantly surprised with this album and because of that, it has made my top five!
To summon up the year it was exciting to have some new names pop up in my top five for the first time as I look forward to all of their future projects as well as it is always comforting to see that you can count on the comfort that established bands like Transatlantic and NMB will continue to put out great albums. There is much to be excited for in 2022!