Ben's Top Picks from 2021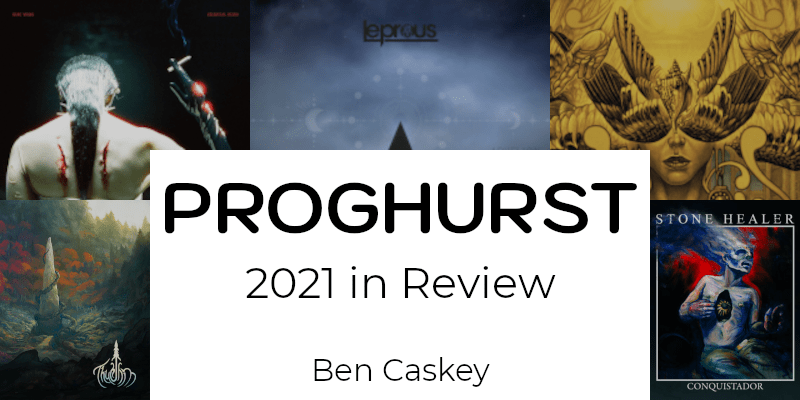 2021 was another year full of great releases in prog, rock, and music in general. Many artists dropped albums that were previously delayed or created throughout the duration of quarantine. It would take a novel to detail all the great new music released this year from bands well known or otherwise. This article is going to be a recap on a much smaller scale. Here are five albums that stood out to me in 2021, in no particular order.
---
Thurnin – Menhir
The first entry on this list goes all the way back to January, and steps outside the boundaries of prog. 'Menhir' is a dark, instrumental, folk album driven by the beautiful, melodic, acoustic guitar tones. The infrequent addition of flute and cello makes for a gorgeous and melancholic experience.
When I first stumbled across this record, I began looking for others like it. I found it's hard to dislike relaxing acoustic music. But it's equally hard to make something that stands out from the rest, and Thurnin's debut album is one of those standouts. This became my go-to for so many occasions, whether it was camping, playing games with family, or just when it's too quiet and I'm trying to fall asleep. 'Menhir' has stayed in my regular listening rotation for most of this year, and it likely will remain there into the next.
Favourite Tracks: 'The Voyage', 'Vicariously we Rest', 'Trials of Menhir'
---
Stone Healer – Conquistador
'Conquistador' spent the better part of 2021 as my favourite album of the year. The breakneck blend between extreme metal and rock n' roll shows immense songwriting ability from the two brothers that make up Stone Healer. It inhabits a wide range of the musical spectrum, from death metal to folk, and from black metal to grunge. The contrast between blistering riffs and blast beats with melodic vocals and classic rock inspired solos is not unique to Stone Healer. But they do it so fantastically and with their own flair that it stands apart. Every song is a hard hitter and they absolutely deserve a spot on this list.
Favourite Tracks: 'One Whisper', 'Whence Shall I', 'Surrender'
---
Leprous – Aphelion
Leprous is one of my favourite bands of all time, and they're the ones to credit for introducing me to progressive music. Despite this, I managed to keep my expectations in check for the new record. Leprous is a band that changes their sound with nearly every album, and anyone expecting more of the same from them could end up disappointed. While 'Aphelion' isn't entirely new ground, they did their fair share of experimenting on this record.
Einar's singing is as exquisite as ever, and the whole band was on point from start to finish. From atmospheric keys and guitar work to the funky bass. And another A+ effort from Baard on the drums is the cherry on top. 'Aphelion' isn't afraid to switch things up, whether it's getting bluesy in the beginning of 'All the Moments', or the beastly throwback to their old sound, and homage to fans in, 'Nighttime Disguise'. Leprous has been making must-listen prog music for over a decade now and 'Aphelion' stacks up nicely to the rest of their discography.
Favourite Tracks: 'Out of Here', 'On Hold', 'Nighttime Disguise'
---
King Woman – Celestial Blues
Four of my top five albums from this year are from bands I'd previously never heard of. King Woman is another one of those bands. 'Celestial Blues' came out of nowhere and introduced me to some kind of atmospheric doom metal. The dark, brooding vocal melodies of Kris Esfandiari bond with the crashing riffs to make a heavy, yet ethereal experience. Unlike most anything I listened to this year, this album grew on me until it found a spot in my top five. I'd recommend this to anyone that enjoys that blend of harshness with softer melodies.
Favourite Tracks: 'Celestial Blues', 'Morning star', 'Golgotha'
---
Dvne – Etemen Ænka
'Etemen Ænka' is an album that has everything. Massive riffs, two harsh vocalists, a heavy dose of keys, and a sci-fi concept that I've yet to fully understand. Dvne has designed an hour-long album that appeals to me in almost every way. There are three brief interludes and seven full-length tracks, all of which stand out in their own way. All seven of these tracks have outstanding use of build-up and payoff which makes for a satisfying listening experience.
Not only is 'Etemen Ænka' one of my favourite albums from this year, but it's also one of the most impactful on my music taste. It served as my gateway drug to other progressive sludge bands I now enjoy almost as much as Dvne. It's one thing to find a record you love, it's another to find one that shifts your music taste entirely. Dvne's new album does just that, and in epic fashion. A record of well-crafted songs from beginning to end.
Favourite Tracks: 'Towers', 'Omega Severer', 'Satuya'