Sebastian's Top Albums of 2021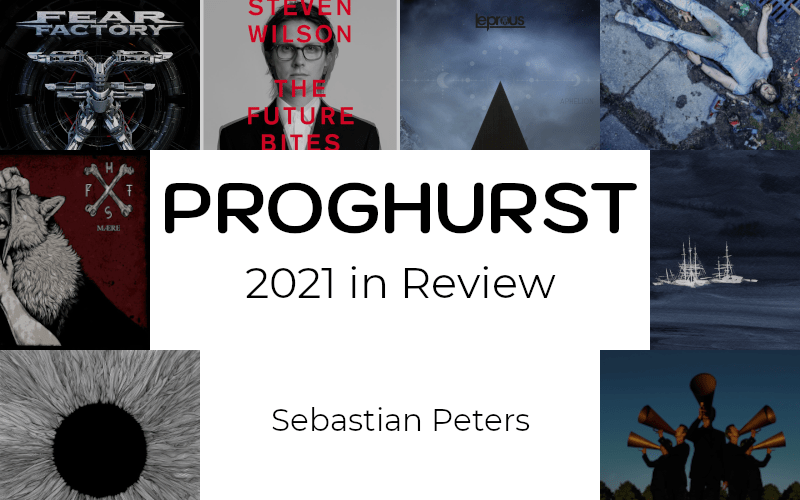 If there was a phrase to summarize 2021, it would probably be "wait a minute, when did 2020 end?" With everything that would resemble a highlight dropping away entirely at the beginning of the pandemic, I don't think it's too harsh to claim that everything has kinda turned into a blurry stream of vague memories ever since March 2020.
This extends to this very list, as I had a good set of top albums in my head, until I looked closer and said, "that album was released last year?" Thankfully, once I was done sorting through all the albums I enjoyed this year, there still was a massive amount of quality releases left, and it was a pretty hefty challenge to boil it down to a top three. I could've done five, but I chose to write a bit more about each individual release instead.
Before I start, some honourable mentions:
Architects – For Those That Wish To Exist
Between the Buried and Me – Colors II
Fear Factory – Aggression Continuum
Frost* – Day and Age
Helloween – Helloween
Kauan – Ice Fleet
Leprous – Aphelion
Soilwork – A Whisp of the Atlantic (EP)
Steven Wilson – The Future Bites
Swallow the Sun – Moonflowers
But now, to the meat…
Andrew W.K. – God Is Partying
Achieving popularity and success right away with his 2001 debut album 'I Get Wet', putting him on the map with his highly energetic party rock, Andrew W.K. has been named the God of Partying. Unfortunately, as fate would have it, he never quite reached the heights of that first release again. But rather than being forced to repeat a tried formula, he has deliberately decided to evolve his sound a lot, while not forgetting his roots though.
Now, twenty years later, 'God Is Partying' takes on a more serious approach, with pretty much all songs inviting the listener to listen, rather than just consume. But then you see the booklet and music videos with its many references to early (crazy) AWK, and it's becoming apparent that this pretty much still takes place in the same universe. Heck, even the album name is a double entendre: is the religious God partying or is it a self-reference?
The music itself is still energetic rock, but more of the ecstatic/victorious type, rather than simply shaking every part of the body without any thoughts. A particular gem is the longest track of the album, 'No One To Know', a mellow storyteller that slowly evolves towards a climactic finale over its six-and-a-half minutes, as the story of an unseen/unfulfilled anchor point in life is told.
I recommend this album to anyone looking for a nostalgic blast to the past mixed together with a healthy amount of introspective maturity.
Favourite tracks: 'No One To Know', 'I'm In Heaven'
Harakiri For The Sky – Mære
In the world of Black Metal, it's not exactly a rarity to go above and beyond 'standard' length. HFTS now added their two cents into the ocean, releasing a massive 84-minute album, of which the shortest track is actually a Placebo cover of all things. Here's the thing, the longer you make an album, the more difficult it becomes for highlights to shine, as they try to weave their way through all the bloat.
It's that background that makes Mære all the more impressive. Each song tells its own unique story and doesn't ask the listener to calm down right after finishing listening to an 11-minute song, as the flow of the album takes care of that with a graceful magnificence like I haven't seen before.
The music is depressingly soul-crashing at one point, then takes the listener out of that hole back to a euphoric bliss in the matter of a few minutes, blast beats and major chords signifying the arrival at a better place. 'And Oceans Between Us' does it so well that I'd recommend this as a starting point for anyone not in the mood to sit through the entire album.
Or, if that is still too much, listen to 'Song to Say Goodbye', the aforementioned Placebo cover. At first, you might dismiss it as an incredibly memetic idea to cover a rock song with a Black Metal sound, but the band worked at it with such a delicate degree of respect that you might mistake it for an original track on the album if you didn't know it was a cover. Furthermore, once you hear the opening lyrics 'You are one of God's mistakes // you crying, tragic waste of skin' you might see why being edgy in a rock song doesn't diverge too far from the stuff Black Metal sings about all the time anyway.
Favourite tracks: Sing for the Damage We've Done, And Oceans Between Us
VOLA – Witness
I'll start with a shocker: I don't like the first two VOLA albums. And I can't even tell you why, it's just that every time I've listened to them, I couldn't be mesmerized in the slightest. But this is what makes 'Witness' all the more amazing, because holy damn did this album blow me away. Out of only nine songs, a whopping five have ended up in my regular rotation.
What's interesting about VOLA is that they're often put into the shelf of Prog Metal, but then you take a closer listen and realize it's pretty much all written in 4/4 with standard chord progressions. No, what really drives the music are the massive headbanger rhythms as all the instruments go crazy. While not my favourite song of the album, 'Stone Leader Falling Down' is a perfect example of how many creative things can be put on top of a simple drum beat, and you just can't stop bobbing your head to and fro.
For those that like it calmer, '24 Light-Years' is a sombre journey through space that'll inject a feeling of seeing the end of a long and hard road just ahead of you, while still having an itch at the back of your head, unmistakably telling you that you'll never quite arrive. It's a tragic song that plays a lot with emotions.
However, my true highlight is 'These Black Claws' though, a song I originally hated the first time I heard it. "What the hell is this Rap crap doing here?" But then I caught myself giving it another listen, and another one, and another one, until eventually I realized that, yeah, maybe I was too narrow-minded. The gloomy atmosphere of a simple synth drum pad switching places with one hell of an evil riff in the choruses works so well that it's becoming addicting. It could very well serve as an entry point for doing more crossovers with Prog Metal and Rap; this song did it well, why shouldn't it become a new formula?
I haven't seen an album this condensed in years. There's absolutely no filler, and no song feels out of place in the slightest. If this is what the future brings, I'm looking forward to seeing VOLA becoming a staple in my favourite bands. And hey, perhaps one day the first two albums will also miraculously sneak into my rotation as well.
Favourite tracks: '24 Light-Years', 'These Black Claws'