Joe's Greatest Albums from 2021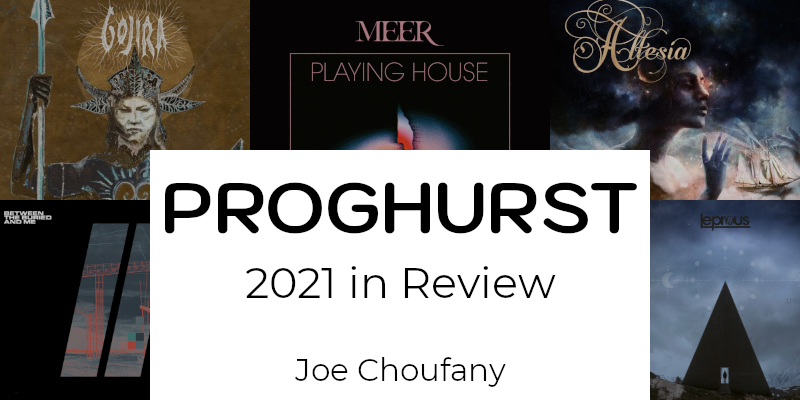 2021 was absolutely packed with new releases from a wide variety of genres and a lot of them were great which made it a bit difficult to pick my top 5. But, I've managed to narrow it down to my absolute favourites that I'm sure you'll enjoy too.
MEER – Playing House
MEER is a Norwegian alternative progressive rock band with big chamber pop and orchestral elements. I was almost instantly hooked on this album when I first heard it – the melodies are so captivating and catchy with violins providing soothing ambience or just jamming along to the rest of the instruments, both vocalists (Johanne and Knut Kippersund) are fantastic especially when they harmonize with each other. While the album is pretty mellow and chill sounding, it does have a handful of heavy moments that made me want to get off my ass and headbang.
Favourite tracks: 'Beehive', 'Songs of Us', 'Child'
Altesia – Embryo
After their debut album 'Paragon Circus', the French 5-piece progressive metal band have done it again! 'Embryo' is a great follow up to the story of 'Paragon Circus'. Even though they wear their influences on their sleeve (Haken, Opeth..) they do it much less this time around and have really developed their own sound. 'Embryo' is terrific and as progressive as progressive metal gets. They have a bunch of wonky sections that go from heavy riffing to straight up jazz – and there's even a saxophone solo in there, not to mention the violin too. If that's not enough to grab your attention maybe the 21-minute closer track will. 
Favourite tracks: Mouth of the Sky, Sleep Paralysis, Exit Initia.
Between the Buried and Me – Colors II
I'll start off by saying that I was never a fan of Between the Buried and Me… Until I heard this album and immediately took a spot in my top 5. Even when compared with its predecessor 'Colors' I find that this one holds up better. 'Colors II' is great and packed with catchy melodies, intricate riffs, synth lines that add so much depth without taking up all the space and the occasional cartoon noises. Each member of the band really shines here and it's hard to direct the spotlight on only one person because they're all incredible. I just want to note that all the songs flow into each other perfectly creating one big seamless listening experience. 
Favourite tracks: 'Fix the Error', 'Bad Habits', æThe Future Is Behind Us'
Leprous – Aphelion
I really thought I wanted Leprous to go back to their old style after listening to 'Pitfalls' but that quickly changed when I listened to 'Aphelion'. I think they sound much more mature with this record – Einar's performance is impeccable, so is Baard's and the presence of Cello played by Raphael absolutely pushes their songs forward. Every track is a new remarkable experience and despite it being a mellow album it is not lacking in heaviness and grooviness. The last track was written with their fans on a livestream they did and it marks Einar's first harsh vocals since 'Coal'.
Favourite tracks: 'Silhouette', 'Castaway Angels', 'Nighttime Disguise'
Gojira – Fortitude
I'll start this by saying that I love Gojira and I love everything they do… Yes, even 'Magma'. 'Fortitude' is spectacular, they managed to bring together the best parts of 'Magma' while maintaining their original sound and somehow this was their most melodic album yet. What I love the most about this album is their inclusion of world instruments such as a didgeridoo, which added another layer of depth to their music
Who else can sing about saving the environment while sounding so damn brutal? 
Favourite tracks: 'The Chant', 'Into the Storm', 'Grind'