Charlie Griffiths: 'Tiktallika' Interview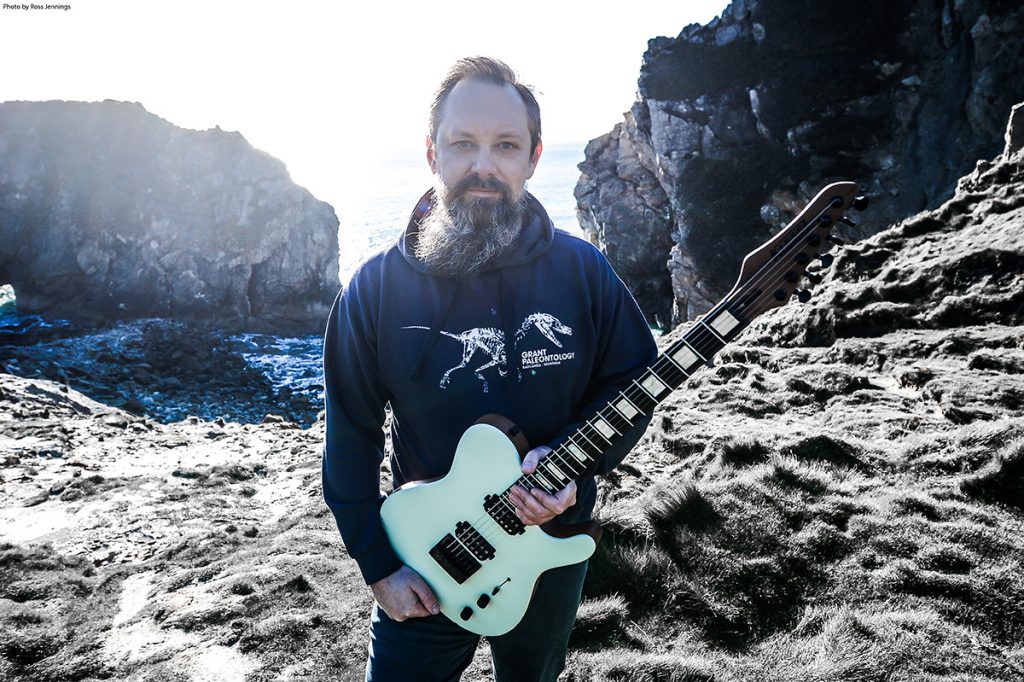 Hey Charlie how's it going? I've got a few questions here from myself, but also from the Haken fan Discord as lots of members wanted to find out more about your brand new solo project!
It's going well thank you! That's awesome, I feel very fortunate to have people interested in 'Tiktaalika'. I've been very pleasantly surprised with the response so far!
So you're on tour right now – How has it been finally getting back on the road with Haken after multiple tour cancellations, delays, lineup changes, and other such roadblocks?
It feels great! I've been looking forward to getting out and playing live again and although I was apprehensive after such a long break, it's really like riding a bike. In fact I think those 2 years at home having time to practice guitar more and work on new stuff seem to have really paid off as I feel more comfortable than ever on stage. The songs are flowing really nicely and the whole band feels tighter and more energised.
Now onto your solo album. Am I right in saying that this is your first release outside of Haken since the days of Anchorhead?
Well firstly, thank you for being aware of Anchorhead! That was probably the reason I bumped into the Haken guys in the first place, as we were playing on the same circuit around London back then. Since then Haken has been the musical focus, but now feels like the right time to do something else too. So yes, this is my first solo work outside of Haken.
Did you take a different approach writing solo material to how you write for Haken? Did your musical influences differentiate?
The process was much the same – but the main difference was I wrote Tiktaalika entirely on a 6-string, instead of an 8-string guitar, which definitely made me think differently. I leaned into more classic thrash and 90s tech-death sounds, as well as prog stuff, but whatever comes out is subconscious at the time. Looking back you can identify 'oh that's a Chuck Schuldiner thing, or that's a Robert Fripp influence.
What was the recording process like? With such a global array of musicians I imagine it happened over email, particularly with the pandemic still being ongoing
It was totally done over email and whatsapp! I obviously did as much as possible at home, since we weren't even allowed out of the house back then! Darby Todd recorded all the drums at his studio and he was hilariously quick! I sent him one track at a time and he'd generally send the final tracks within 24 hours! In that time he'd message sections to me to check if it was ok, but I was pretty much happy with everything he was doing, so it was very easy!
The same goes for the singers Tommy Rogers, Danïel De Jongh, Vladimir Lalic and Neil Purdy. I sent them my rough guide vocals and they each recorded themselves in their own places and absolutely knocked their parts out of the park! It was really a very smooth, easy process thanks to all those guys and Jordan Rudess and Rob Townsend too who deserve shout-outs!
What's your favourite track on the release?
It changes from day to day, but currently I'm into 'Luminous Beings' since I'm working on the video for that one. It's probably the most different song on the album with jazz fusion moments and riffs that remind me of Gentle Giant. I absolutely love Darby's improvised drumming style and Danïel's soulful vocals on that one.
Was any of the material for Tiktallika originally written for Haken songs?
No, everything was written freshly for this album. I do have a lot of unfinished ideas on my hard drives, but for whatever reason I almost never go back to them and most of the time I forget they are there! Writing 'Tiktaalika' was a really nice experience where I had a cool writing streak. Every night I sat down and felt like I came up with something I could use.
The music videos are absolutely ridiculous, what was the source of inspiration behind them? Who was the animator? Have you worked with them before?
Thank you haha! I guess the inspiration was to do something that I thought would be entertaining and amusing, as well as not breaking the budget! It was the same mentality as the 'Cockroach King' video, which I made the puppets for and performed a lot of the puppeteering myself and Ross filmed it.
For the Tiktaalika videos I bought a green screen for a tenner and somebody kindly gave me some lights so I could film some stuff at home at a decent quality. The animation was done by myself and my friend Dan Goldsworthy, who also did the cover art. At Christmas we created a video called  'Sleigher – Seasons Greetings in the Abyss', which was equally as silly, but went down really well, so that naturally led to creating the 'Tiktaalika' videos together. Dan is an amazingly versatile artist and the drawings he made of Timmy Taalik are just beautiful – he's a character we've both bonded with! We basically wanted to create a kids TV show and we ended up with 'Timmy Taalik's Time Time', which I also wrote a theme tune for, which is probably my favourite thing I've written haha!
Tommy Rogers has performed vocals on 'Arctic Cemetery', and I'm fairly sure that 'In Alluvium' has that signature Jordan Rudess sound. What are the other guest appearances on the album, and how was it working with those musicians?
It was an honour to have so many cool people on it and the nice thing is that I chose them as friends I wanted to be creative with, as well as their obvious skills. You are correct, Jordan plays a solo for 'In Alluvium' and what you hear is the very first take he played, which I know because from me sending the track, to him sending it back was a turnaround of about 10 minutes! As well as the amazing Darby Todd who I mentioned before, Rob Townsend of Steve Hackett's band plays saxophone on 'Dead In The Water'. He stacked up both baritone and tenor saxes and Ray Hearne (Haken's drummer) added some trumpets, to complete the Tower of Power sound I had in my head. There's nothing more exciting than receiving those audio files and dropping it into the project!
Where did the idea for the concept come from? The Ocean have a wide discography based on evolution, so it's interesting to hear another artist in the space cover the same topic
In all honesty I haven't got round to checking out the Ocean yet, but I think it's a very cool and deep subject to dig into because there's so much history there. My personal love of geology and palaeontology began in the 90s when I studied it at college. Since then, the time scales involved and the wealth of the historical evidence buried beneath our feet is profoundly mind-blowing to me and I'm happy to finally have been able to put my thoughts on it across in the form of these songs.
I loved the acoustic guitar intermissions – have you always had a love for the instrument, or is this a new bit of experimentation for you?
Thank you! I think that stems from a love of those classic thrash albums which always seemed to start with an acoustic track. There are many, but 'Parting of the Ways' which starts Forbidden's Twisted into Form might be my favourite.
Are there any plans to tour this record, if not would you like to? Even just a one-off show? Maybe in London? Please?
I haven't even begun to think about the logistics of making that a reality, but of course I'd love to perform these songs live! I'd be really interested to hear them come to life. London sounds good sure haha!
Do you ever look back to the days of Anchorhead and see how far things have come in your musical career?
Often! Anchorhead was done as much as a musical education as anything, with the aim of figuring out what the heck John Williams was doing on those Star Wars scores. To this day I'm still trying to understand it.
Also when are Anchorhead going on tour, even just a one-off show, maybe in London…
Pete Rinaldi the other guitarist and I still hang out all the time and we're still both big Star Wars geeks and we often talk about firing up the old hyperdrive system again and rerecording the trilogy with today's technology and maybe get a bunch of guest vocalists and musicians too. It'd definitely be cool to play it live again!
Can we expect any more solo material in the future?
In the immediate future, the focus is on finishing Haken's 7th album, which is basically written, but we need to add the finishing touches to record it. Once that's done, I'm planning to start work on the follow-up to 'Tiktaalika'.
If you could choose any band dead, alive, or disbanded – who would you like to tour with next, that you haven't already toured with in the past
Without question Gentle Giant, although I know full well they'll never perform live again. To be in the presence of that music being performed live must've been incredible.
And finally, the definitive question – what's your favourite pre-historic creature?
The Tiktaalik of course! We owe so much to that creature. To think that it existed 375 million years ago – which means it was already a fossil when the dinosaurs roamed the Earth! And the lineage of the bone structure of our hands stretches back so far to this ancestor's fins is totally mind-boggling, It's the reason we play guitar riffs the way we do!
Where can people find you? (Instagram/Facebook pages/Twitter, etc etc – whatever you want to plug)
Website: www.charliegriffiths.com
Preorder: https://charliegriffiths.lnk.to/Tiktaalika
Social media:
https://www.instagram.com/charliegriffithsguitar/
https://www.youtube.com/c/CharlieGriffiths
https://www.facebook.com/charlie.griffiths.guitarist
https://twitter.com/c_griffiths