19 Tours That Have Been Postponed Thanks to COVID-19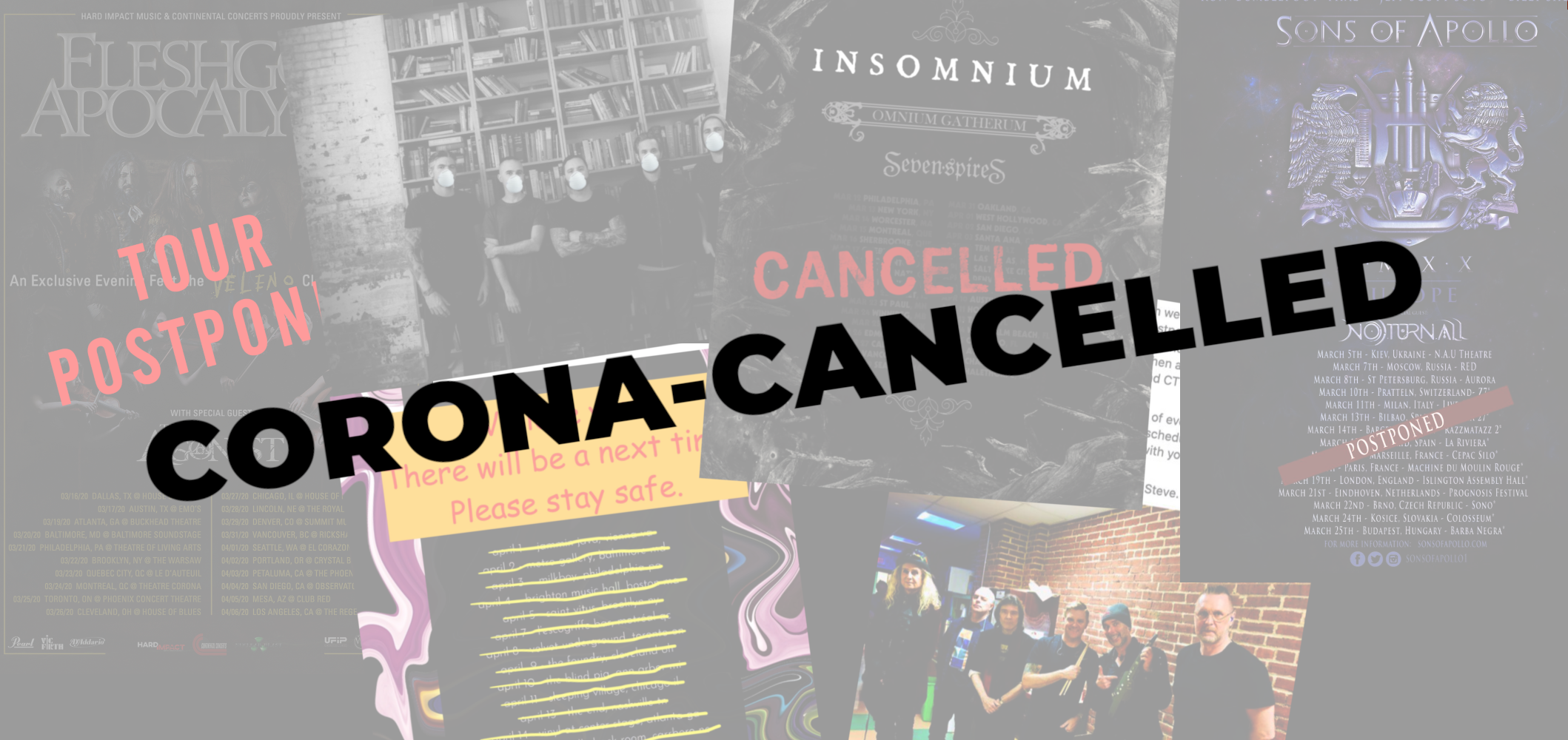 As I'm sure everyone is aware, COVID-19 is sweeping the planet causing contract workers, musicians, and more all over the world to watch their income quickly disappear.
It's no secret that the vast majority of bands rely on live shows to keep a steady income, and not just album sales. The banning of mass gatherings across Europe, America, and more has meant many tours have been postponed, or even cancelled entirely putting many performers into financial disarray.
If you are financially able, make sure that you stream their music on your preferred streaming platform, buy their CDs, vinyl, merchandise, and more. Recommend your favourite bands to your friends and show support to them on social media by sharing love, kind words, and best wishes.
In order for the progressive music scene to continue into the future, we must all band together and support those that have lost out due to the COVID-19 pandemic.
Devin Townsend
Empath Volume 1, the US leg of a four part touring schedule for Devin's 2019 album 'Empath' had to be cut short. Devin emphasised the advice coming from governments around the world that we must protect those who are more vulnerable to the disease by postponing mass gatherings.
It's not responsible to hold big meetings of people in this current climate, perhaps not for you and I, but especially the ramifications of spreading it to people who we may interact with who are older or immune compromised.

— Devin Townsend (@dvntownsend) March 12, 2020
Haken and the Contortionist…
Were supporting Devin on his tour, and will also be affected by the postponements. In addition, Haken also had some solo shows where they planned on playing 'Affinity' in full. These have also now been cancelled.
Yes
The prog rock legends Yes also decided to postpone their tour, initially citing insurance coverage as the reason why the tour can't go on. As the few remaining original band members continue to age, they are more vulnerable that most touring musicians out there and definitely made the right decision to call the shots.
"Running a relatively large show aided by our 12-piece crew and full production requires insurance coverage, which is currently unavailable to us for a variety of reasons beyond our control." – Steve Howe
Cruise to the Edge
Subsequently a few days after Yes postponed their tour, the same happened for Cruise to the Edge. An annual prog cruise due to depart Miami in Florida in just a couple of weeks time. With most of the bands due to play on the cruise having to postpone their tours and fly back home, the Norwegian Pearl will be setting sail another day.
Steve Hackett
He tried to keep going, but unfortunately Steve was forced to cancel his remaining tour dates in the USA. Celebrating two famous albums from his part 'Selling England By the Pound' (Genesis) and 'Spectral Mornings' (Solo), US fans will have to wait for this nostalgia trip.
The only good news to come out of this cancellation is that Nad Sylvan may have some time to work on his next album…
Made it home last night. With the bad comes the good; I may now focus on my next album. pic.twitter.com/b2cBbZxnX4

— Nad Sylvan (@SylvanOfficial) March 16, 2020
The Howard Jones Trio
Featuring Nick Beggs and Robin Boult, Howard Jones has chosen to cut his tour short, promising to be back in the future.
With great regret we are letting you know that we are unable to do the rest of our US acoustic trio tour. After cancellations and continuing restrictions on public events occurring on a daily basis, and the declaration of a pandemic, we are heading home to be with our families.

— Howard Jones (@howardjones) March 13, 2020
Code Orange
With an album launch show on the horizon, Code Orange played to an empty venue and livestreamed the concert instead. With a peak of over 13,000 viewers on twitch.tv's streaming service, they blew the venue's capacity out of the water. The only problem is, they didn't sell any tickets…
If you missed the show, it's available to watch on demand below.
Sons of Apollo
Sons of Apollo were one of the first bands to postpone their tour over two weeks ago before many governments started taking COVID-19 seriously. Promising to reschedule as soon as possible, this European wide tour was in support of their latest record MMXX that came out in January of this year. The band were being support by Noturnal, whom Mike Portnoy recently toured with through South America.
Sons Of Apollo are devestated to announce that we have no choice but to postpone our current European tour due to the Corona Virus epidemic.
Official Statement here:https://t.co/FiWLA8UFPj pic.twitter.com/0zKxTQw9JR

— Sons Of Apollo (@SonsOfApollo1) March 4, 2020
Fleshgod Apocalypse
The Italian technical death metallers Fleshgod Apocalypse had to cancel as they were unable to leave their own country, let along travel to anyone else's! It's not looking great for them as only in 2018 the band had a large amount of equipment stolen from them whilst on tour.
Last night some miserable pieces of s*** broke into our van and stole our full live rig, production tools and stage props, drums gear, our signature custom-made guitars and bass (by Rufini Guitars), merchandise and various spare parts.
In an unfortunate turn of events, Italian orchestral-death metal giants #FleshgodApocalypse have been forced to postpone their North American tour due to travel restrictions implemented in response to the spread of COVID-19, "Coronavirus."

Full details:https://t.co/kuXPDCthGs pic.twitter.com/Jx2Pe5Q5ZS

— Fleshgod Apocalypse (@FApocalypse) March 11, 2020
Insomnium
Insomnium made it one date through their US tour in support of their latest album 'Heart Like a Grave' before having to cancel. This is one of the saddest cancellations as having to travel across the world as a small band to play just one show on a tour with over 30 concerts set up is a huge amount of lost revenue for a smaller band such as Insomnium.
With heavy hearts we inform you that we are forced to cancel this North American tour after just one show.

Stay safe, wash your hands, stay calm.

Insomnium & Omnium Gatherum #Insomnium #OmniumGatherum #NorthAmericanTour #covid-19 #heartlikeagrave pic.twitter.com/pafZhQInix

— Insomnium Official (@insomniumband) March 13, 2020
Prognosis Festival
As the government in the Netherlands has decided to cancel all large gatherings and events, the Prognosis Festival has had to place the even on hold. Thankfully this is just a postponement as the new dates have been confirmed as September 4th and 5th later this year with the festival runners hoping to keep the same lineup.
Baroness
And speaking of festivals, Baroness were due to play Download in Melbourne, Sydney, and Tokyo – but unfortunately have pulled out thanks to the COVID-19 crisis.
— Baroness (@YourBaroness) March 13, 2020
Anathema
Embarking on their 10th anniversary tour for their album 'We're Here Because We're Here', Anathema halted their tour after playing their final show in Lisbon, Portugal.
Between the Buried and Me
On tour in South America, the band posted a photo of them wearing face-masks on the last show of their tour. Unfortunately, they too have had to fly home.
Last show of tour tonight in São Paulo!🇧🇷#btbam #btbam20 pic.twitter.com/ndS1KIwkXA

— BTBAM (@btbamofficial) March 15, 2020
Russian Circles and Torche
Russian Circles were on tour with Torche, only four dates into their European tour when they had to bail.
We're really sorry to inform you that due to the #COVID19 situation in Europe, @RussianCircles European tour 2020 with @torcheband has been postponed. The show at @roadburnfest is still confirmed. You can read a message from Brian, Mike and Dave here https://t.co/a3eSmk0tSR pic.twitter.com/LL6fE981wS

— Sargent House Europe (@SargentHouseEU) March 11, 2020
Van de Graaf Generator
While their website is like something out of the 70s, (no really), it does confirm that their upcoming shows around Europe have been cancelled for now, with the potential for them to be re-arranged for later in the year. No announcement yet on the state of their UK tour in May, but I imagine that'll go the same way.
Bent Knee
The band put out this wonderful comic sans graphic letting fans know that the tour was going to be called off. They later confirmed that the tour is postponed and not cancelled as the original tweet said.
Unfortunately due to reasons that I'm sure you're all well familiar with, we have to cancel our upcoming tour. Stay safe friends. pic.twitter.com/ZBHyVIU0PW

— Bent Knee (@bentkneemusic) March 16, 2020