Caligula's Horse at Boston Music Room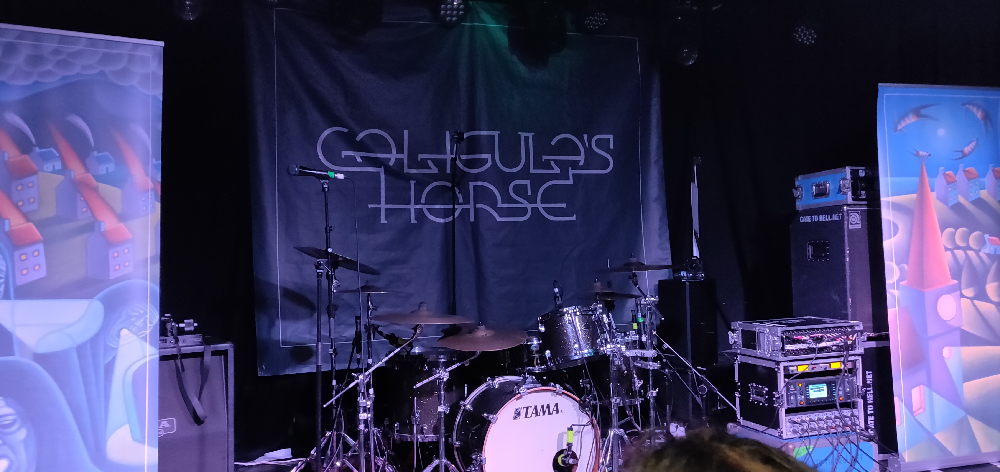 Last week I had the pleasure of seeing Caligula's Horse for the first time live at sellout show in north London. During the proceedings they mentioned that this is the biggest solo show audience they've ever performed to! What a treat. The band from Australia have been on a European tour hitting 'ProgPower', 'Euroblast', and 'Very Prog Festival' along the way as the headline act! Supported by two very competent bands 'Circles' and 'I Built The Sky', the subtext of the tour was "The Aussie Invasion". It's not often so many talented musicians are in one place from across the planet, truly a tour to remember.
I Built The Sky came on first bringing a huge amount of energy to the stage, even initiating a high five wall of death. I wasn't sure what that was either, but it turned out pretty well. Their slick and polished performance made for a great start to a fantastic evening.
Circles were up next and put on a great show. I'm not hugely familiar with their work, but I subsequently picked up 'Infinitas' to listen to more thoroughly. It was clear from the roars of the crowd that they had a lot of fans in the audience too. After their set was over, it was time for Caligula's Horse…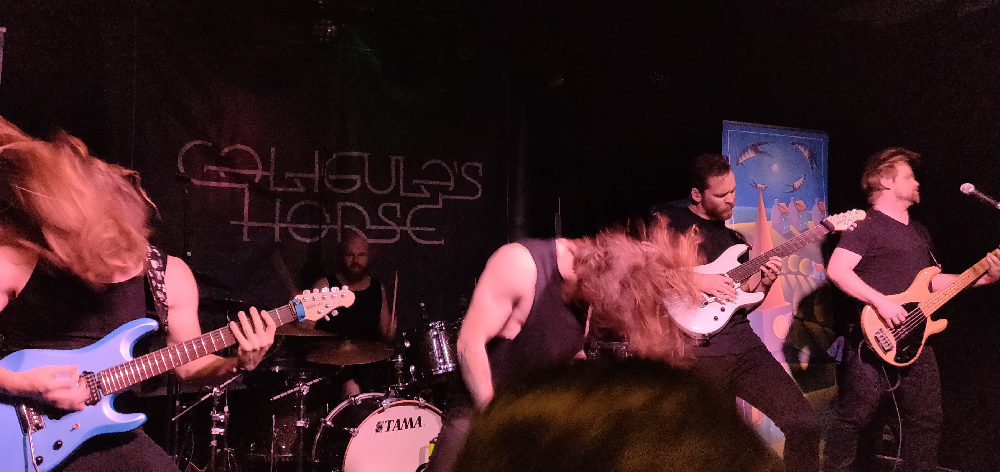 Their latest release 'In Contact' was one of my favourite releases from last year, with the saxophone solo on the song 'Graves' giving me everything I want from a prog epic. Thankfully they played it in their set, albeit with no live sax player… Maybe it was because I was full up on beer, but the band shined during this song. Nailing every solo, every rhythm part, as well as the lead and backing vocals sounding superb. Their playing was tight, expressive, and full of energy. Luckily others may have a chance to relive it as the song Graves was filmed on several go pros and DSLRs around the stage by the members of Circles and I Built The Sky. Talk about making a concert DVD on a budget – a genius idea on their part for a band with a small following. I do hope the video is released soon so I can watch myself going mental in the pit.
Most of the rest of the set was based around 'In Contact' playing seven tracks off of the album.
Jim's (the leader singer) personality prevailed throughout the night as a stellar front man. One memorable bit that stood out in my mind was when he called the audience "A bunch of prog nerds". Met with cheering and laughter, he followed up saying "That was supposed to be an insult!". After touring throughout Europe extensively where English isn't widely spoken, he was happy to be in a place where his quips were appreciated.
The encore started with a rendition of 'Inertia and the Weapon of the Wall', and the room went silent. Everyone was engaged listening to the wonderful poetry, read out in just as an expressive manner as on the album itself before launching into 'The Cannon's Mouth'. What a way to end a fabulous evening.
My one complaint is that Sam (lead guitarist) wasn't turned up enough on his guitar solos! I was right at the front for most of the concert and they were always a tad quiet.
Despite some lineup changes over the last couple of years, this band isn't stopping anytime time soon! I can't wait to see them play live again in the future.