Elder at The Black Heart in London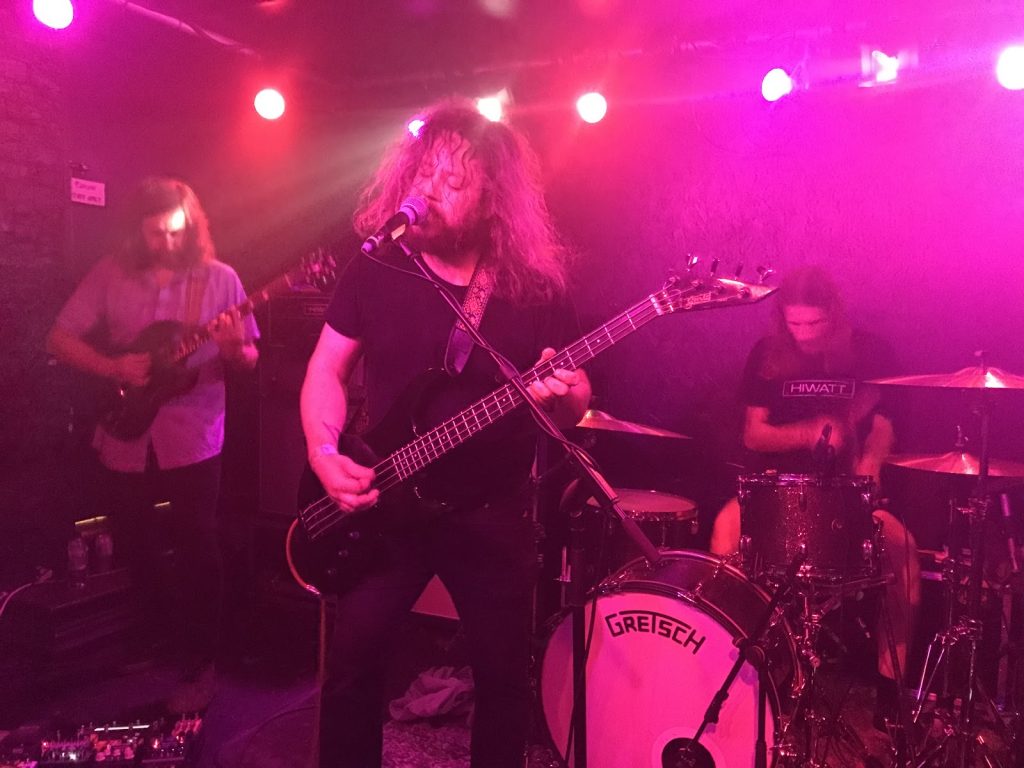 Extreme amounts of luck and a frantic race out of the day job landed me a spot in an intimate Elder show at Camden mainstay (and perhaps London's best underground venue) The Black Heart this week. I live to tell the tale, so today I will share that journey with you.
First of all, we have to talk about the amount of effort it takes to set up a pop-up show, no matter the size of the band or venue – this is an industry where tours are announced months in advance and promotion is constantly resurfaced in the hope that the bands, the venues, and the various third parties involved will all break even. It takes a ton of work and a whole lot of passion to put on a successful show on short notice, for free. Huge props to the band and the venue and the people from Desertfest who helped put it all together, for putting on a show seemingly just because they could. 
The band themselves made clear that this venue is close to their hearts – this 150 capacity room hosted their first UK gig ten years ago, helping establish a growing audience by many multitudes given their London stop on their upcoming European tour will see them headline the 1500 capacity Electric Ballroom in Brixton. This comparatively minute stage could barely fit the band, numerous amps, and their massive pedalboards, and yet band and venue expertly partnered to channel a fantastic sound in the room.
Made audible was every crucial element of the beefy psychedelia Elder are known for and have been refining over the last decade and a half. The adventurous riffing, the thundering basslines, the evocative drumming and the sparse-yet-satisfying vocal sections to add flair to proceedings. This is made manifest onstage by an incredibly cohesive unit, with an equally vibrant (and loud) live mix. Bring earplugs!  
A wide berth of sounds are shaped into the setlist, with material spanning the early albums Dead Roots Stirring and Lore – known for leaning further into a heavier, riffier sound – and recent record Innate Passage, which skilfully demonstrates a trippier bend. The output may be different but the impact on the listener is the same: a meandering voyage through some masterfully crafted compositions.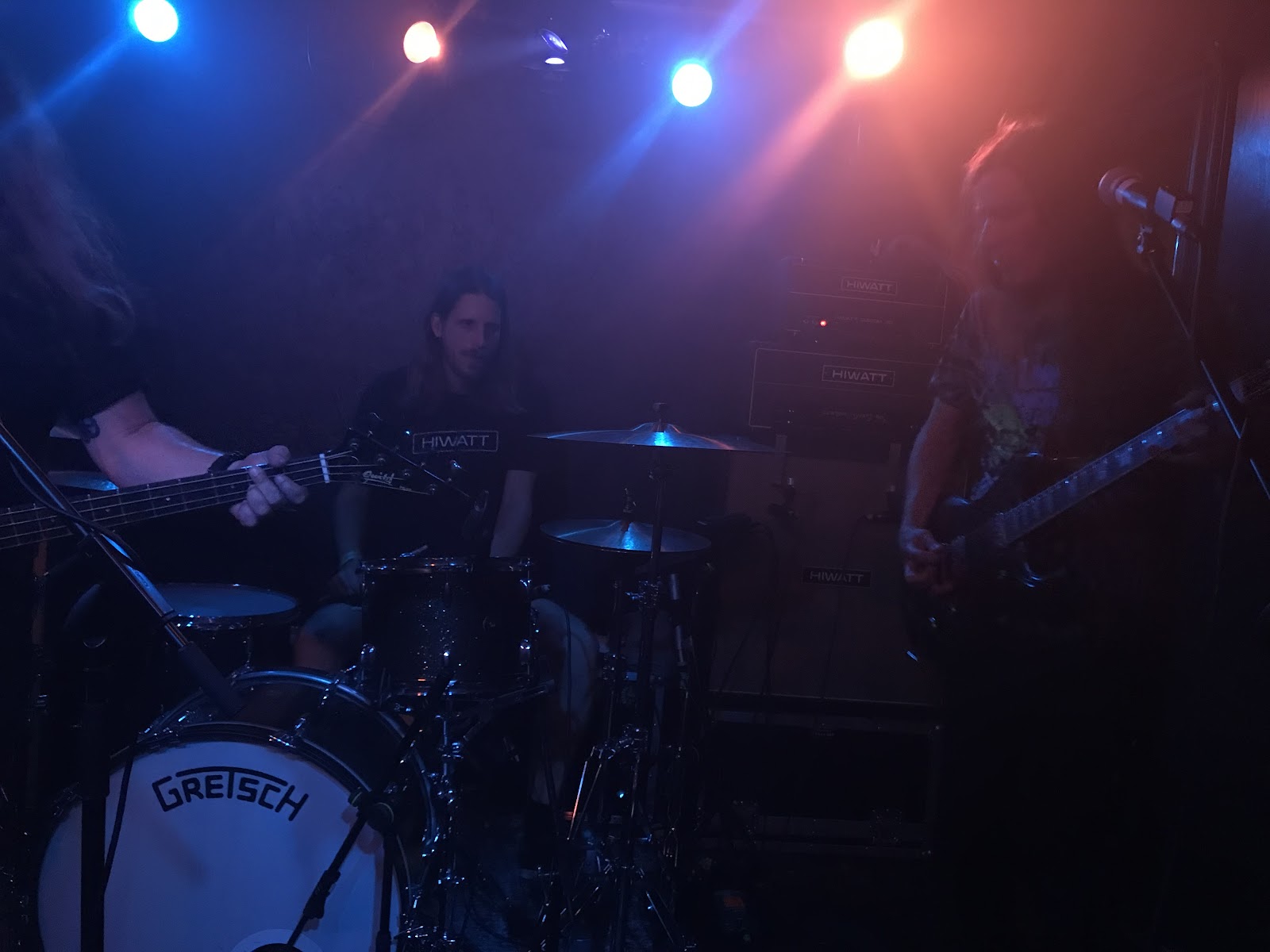 A brief journey onto the stage to warm up the valves in their amps precedes Elder's opening Catastatis, showcases a band songs with substance whilst on substances – but all the same, playing with admirable lockstep. Lore was lovely to see in the setlist, the powerful self-titled cut off my personal favourite Elder record. Indeed a highlight for the audience too, with a great reaction as Nick DiSalvo traded leads with Mike Risberg's cutting riffs. 
A nice additional touch throughout the set worth mentioning: the vocals of DiSalvo and bassist Jack Donavan – I think even the most diehard Elder fans would admit that they have never been the most technical vocalists, but the sparse vocal sections do add colour to the songs and are well-executed inclusions in a live context.
By contrast of the immense riffing of Lore, the relatively lengthy by Elder-standards Innate Passage track Merged In Dreams – Ne Plus Ultra highlighted the band's rhythm section excellently, with Donovan locking in an excellently catchy groove and Georg Edert bringing a brilliant intensity with some tasteful fills supplementing building guitars towards the song's climax. Drumming was a highlight throughout the set, with Edert making it all look rather simple despite the frequent tempo changes and occasional odd-time oddities he's driving. 
Their performance came to its peak with two crowd pleasers; the former of which was Sanctuary, which soared through its peaks and valleys with resounding confidence. A key highlight was DiSalvo ripping through its guitar solo and riff reprise and making it look effortless. 
Closing number Gemini was where the insanity set in. The more intense sections of this track brought with them mosh pits and stage divers – given the relatively chill tone of the show and the vast majority of their musical output, this was an unexpected outcome to be sure, but a welcome one. As the dust cleared and the set concluded, the entire audience crowded around the merch stand. It's clear as to why – these Elder statesmen of the psychedelic metal scene gave an unforgettable performance. 
So I suppose the question is: would I recommend an Elder gig in your city? If you're not convinced by now, I would say: absolutely yes. Listen to their albums – they have so much to absorb and appreciate and this is only brought out further in live performance. They also have spectacular merch, buy that. I would describe myself as won over. I firmly believe you will be too.