Lazuli at The Borderline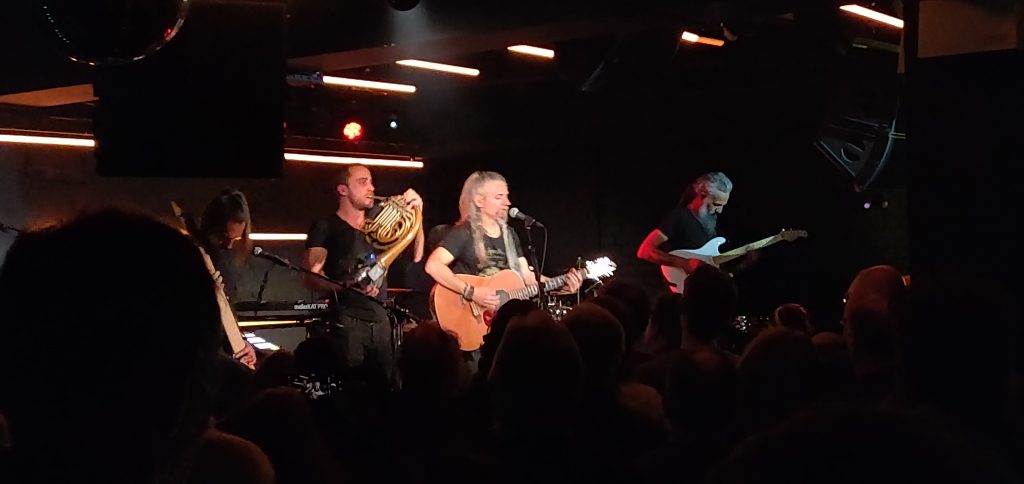 After coming across a performance on YouTube of Lazuli's 'Les courants ascendants' about a year ago, I was hooked. The hypnotising melodies, the bold instrumentation, the giddiness of the musicians on stage, I knew that I had to see this band perform live. Also, a french horn player!? In a prog band?! Sign me right up.
I picked up a copy of 'Nos âmes saoules' and let it pleasure my ear holes. Dominique Leonetti (the lead singer and guitarist) has a voice so astoundingly angelic, waves of euphoria washed over me. Even if I don't speak a word of french. On the night, his use of delay and reverb filled the room with a wave of sound, so effortlessly being flung out of his mouth.
And of course, I can't talk about Lazuli without at least mentioning the Léode. A one of a kind instrument custom-made by Claude Leonetti. He unfortunately was in a motorcycle accident in 1986, leaving him with limited use of his left arm, meaning that he couldn't pick up a guitar like he once used to. After having the idea in a dream and turning it into reality, the Léode is a guitar inspired midi controller powered by digital synthesisers.
You can read more about the Léode on their website, as well as watch a documentary (in french) about how it was constructed, and how the idea originally came about.
To set the scene for the evening, I'd spent my day at the People's Vote march, with the aim to give the people of the United Kingdom a second vote from our impending doom.. *ahem*… exit from the European Union. People gathered in the hundreds of thousands to embark towards Westminister to try to make their voices heard. As I'm writing this, it's still uncertain what will happen in the future, other than Lazuli heading back to the studio to record a new album later this year…
The political theme continued into the evening all throughout Lazuli's set which is why I bring it up. With that bit of context out of the way, let us move on to the music.
I'm not overtly familiar with their entire discography, but I thoroughly the music played throughout their set. Spanning across a number of albums such as 'Tant que l'herbe est grasse' and '4603 battements',  they mostly focused on their latest release 'Saison 8'. Some personal favourites of mine were 'Homo sapiens', 'Chronique canine', and of course 'Les Courants Ascendants'.  As well as using the 'traditional' rock band instruments, Lazuli also brings on board a french horn, a twelve string guitar, as well as a number of modern synthesizer sounds coming from Romain Thorel making for a very varied sound throughout the set.
As the night progressed, the on-stage banter blossomed. Despite the language barrier, Dominique could always get across the point he was making. He mentioned that he had recently been very ill and this had massively affected his voice. He went on to say it sounded akin to 'Theresa May', much to the amusement of the crowd. He also dedicated one song to the hard work that the youth of today are putting into fixing the environment. Mentioning that they shouldn't have to be doing these things, but is thankful for their dedication none the less.
Despite some technical issues, possibly a loose cable somewhere in their impressive range of equipment, Lazuli continued to delve deep into their discography spanning the last 20 years moving into wonderful compositions such as 'Le lierre'. Dominique jumped into the audience so dance with some audience members while playing a solo, demonstrating the playful and kind-hearted nature of the band members. Clearly feeling rewarded at being about to share their music with the audience that came along for a night of prog.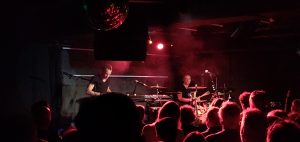 As the songs went by, I found myself focusing more and more on the backline musicians Romain Thorel and Vincent Barnavol. These impressive two did a number of instrument swaps, where Vincent would swap over a marimba strategically placed in between the two, Romain would slither over from his keyboard to the drum kit without hesitation. As a multi-instrumentalist myself (piano, french horn, guitar), I know how challenging it is to switch between these instruments on the fly, especially trying to keep rhythm, but they did it without fault. Unless you were paying attention, you may not have even noticed them weaving around the back of the stage behind Dominique, Gédéric, and Claude.
Dominique gave out more thanks as the evening went by, citing his t-shirt "music crosses borders". Going on to mention that "If it wasn't for immigration, the stage would be empty". As someone whose grandfather is from South Tyrol in Italy, I can more than appreciate the importance that immigration has had on my life. And with the events earlier on in the day, it seemed highly appropriate to highlight it here.
Then, it happened. What I'd been waiting for, for the best part of a year. They played 'Les Courants Ascendants'. It sounded just as good as I'd imagined it as the musicians came together to impress the audience. Romain and Claude with their french horn and Léode solos respectively killed the room. As the audience joined in Dominique's otherworldly signing, something magical happened. The entire room was in a state of zen, mesmerised by the etherial nature of the music. The audience and band became one.
As the song finished to rapturous applause, the audience demanded that they continue, chanting along the finale riff to continue the spirit of the song, which merely fades out in the studio album.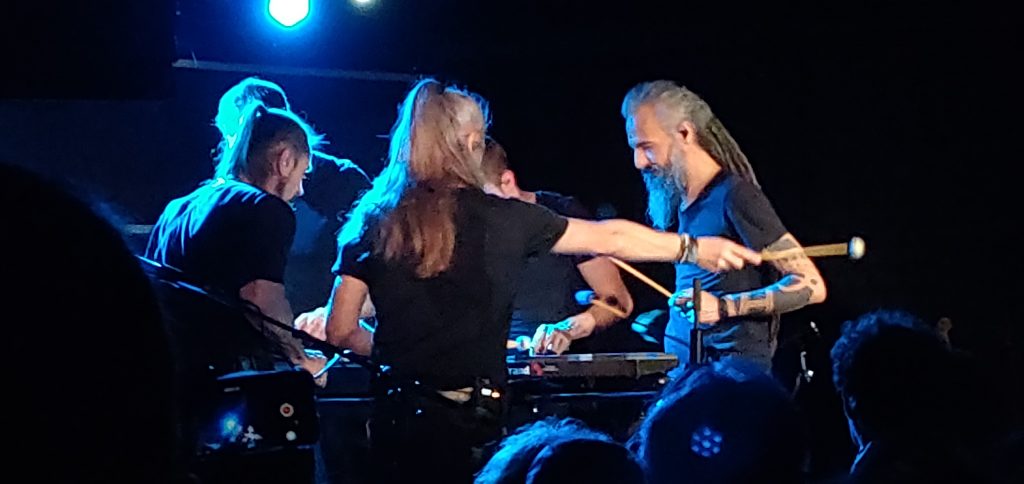 Who would continue on? Rise to the challenge that the audience had collectively set? None other than Romain and Vincent, the backline instrumentalists shining to the front of the stage. As we provided the chordal backing, it enabled Romain to move to his keyboard to perform some fantastic solo lines, as well as giving Romain the freedom to embellish his drumming. Even Gédéric came out of a stage door to join the audience and watch in awe at his fellow musicians.
They returned for some encore pieces, and eventually finished with "9 Hands Around the Marimba", just to really show off their musical CVs. Everyone in the band surrounded a marimba and started playing a minimalistic Steve Reich style piece of music.  This merged into  a short medley of popular songs including Gotye's 'You're just somebody that I used to know', while Dominique and Gédéric slid underneath the instrument to swap sides half way through the performance.
If you ever get the chance to see this band perform live, do NOT turn it down. Under any circumstances.